.
Occupella
Singing
in the Lifeboats
.
.
.
Home
Occupella
Singing in the Lifeboats
Occupella is an activist song-leading group that formed in 2011 during Occupy Berkeley and Occupy Oakland and is still leading songs at marches, meetings and rallies around the Bay Area. Nancy's account of its birth and first year "...provides engaging and gritty details of the heady days of the Occupy movement in the Bay Area," according to Peter Blood, co-creator of Rise Up Singing.
Malcolm Margolin, founder of Heyday Books, says, "Political protest is one of Berkeley's most well developed art forms, and Nancy Schimmel takes the art to new heights. I read her book with great enjoyment. It's the best damn book I've read in a long time."
Nancy brings to the subject her perspective as an activist during the sixties and seventies peace movements and women's movements and the stories she heard as a child from her activist parents, Bud and Malvina Reynolds.
This is not a songbook. Occupella's songbook of political parodies and updated movement songs can be downloaded free at occupella.org
Shipping to anywhere in the US is $5 per order for Media Mail or $10 per order for Priority Mail. California residents will be charge 9.75% sales tax. For shipping outside the US please go to our Foreign shipping catalog page.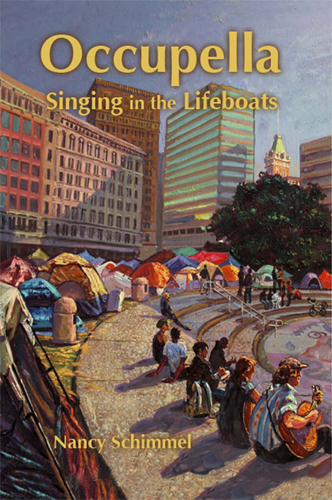 Occupella: Singing in the Lifeboats
Book $12.50 plus shipping


OR order by printing form and mailing check