.
.
.
.
Malvina
Spirit
.
.
.
Next
.
.
.
Home
.
.
.
.
An Evening of
Malvina Spirit

With singer/songwrite Judy Fjell, Nancy Schimmel sings songs by her mother, Malvina Reynolds, and tells the stories around them: how they came to be written and what Malvina stirred up when she performed them. Nancy and Judy have a good time performing together and the audience, whether Malvina fans or newcomers, joins right in.

Little Boxes, Morningtown Ride, What Have They Done to the Rain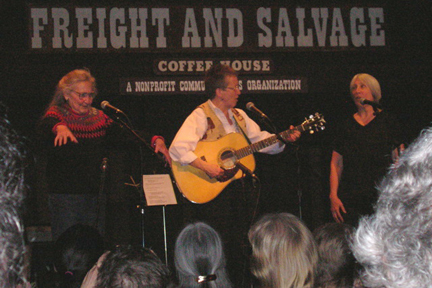 From left: Faith Petric, Judy Fjell, Nancy Schimmel. This was taken at Nancy's seventieth birthday performance/party where Judy and Nancy did a snippet from their Malvina show. Photo by Karen Rosenbaum.